Janice Brock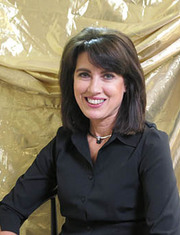 Janice Brock
The Touch Above Hair Design
407 Seneca St
Storm Lake, IA, 50588 USA
712-732-4003
As a salon owner, I spend my free time on continued education, looking through magazines for new salon ideas and salon and home improvement projects. I also love to cook and bake for family and friends.
I knew I wanted to do hair my senior year in high school. I was inspired by the salon where I had my haircut. It seemed like a high energy career which seems to fit my personality.
The advice I would give to someone coloring their hair for the first time is to start with highlights/lowlights or semi permanent color for a subtle look. You can always be more daring with the next color application.
The celebrities who always have great hair whether long or short would be Charlize Theron and Brad Pitt and then there is the classic look of Diane Sawyer.
My approach to doing makeup is to not look made up. Choose colors that enhance or compliment your best features. Always look fresh and natural; less can be more. Having a microdermabrasion treatment also enhances your skin tone.
The one thing that makes me laugh is my grandchildren. They are so care-free that they make me laugh at them, with them, and most of all, at myself.
I have a passion for all aspects of cosmetology. I am an expert at providing color, cuts, and styles for fine hair. I am also certified in providing microdermabrasion treatments and chemical peels. I enjoy make up applications and skin care as well.