Becky Husman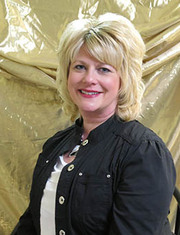 Becky Husman
The Touch Above Hair Design
407 Seneca St
Storm Lake, IA, 50588 USA
712-732-4003
Becky has been with the Touch Above team from the very start of her cosmetology career. All of our staff feels like extended family and we hope our clients feel the same way. Becky enjoys the versatility of working with men, women, and children of all ages. Besides precision cutting, she enjoys coloring and dimensional foiling and also perms for added volume to the hair. Becky specializes in microdermabrasion, skin care and makeup application. Continuing education is important to Becky, as we all can learn something new in the industry. As the fashion world is always changing, so is the hair industry. This makes each day fun and exciting to help each client look and feel their best!
How do you spend your free time?
I enjoy spending time with family and friends. I like to be competitive in card games. I love to walk and bike outdoors. I also enjoy working with music at my church.
When did you know you wanted to do hair?
I started going to the salon with my mom when I was very little and loved not only that everyone left with a smile on their face looking great, but also the close relationships that were made. I never thought of doing any other occupation. I love my job everyday!
Currently working on?
Providing the extra spa services that relax the client and help them feel pampered and special.
What is your approach to doing hair?
Consultation is so important, finding out what the client is looking for and how that clients hair type and lifestyle will work with what they have picked out. I love it when a client brings in a picture to go by!
What celebrity always has great hair?
Carrie Underwood, Halle Berry, Jane Fonda, Ashton Kutcher
What is your personal Style?
My personal style is classic with a little bling!